Origin: Pontian
Regular price
RM38.50
Sale price
RM28.90
Unit price
per
Sale
Sold out
27 in stock
King Prawns
King Prawn from Pontian has a hint of sweet taste in its savoury flavour that is unique and cannot be found elsewhere. They are well loved for their extreme freshness, bouncy yet crunchy texture, and amazing flavours. These King Prawns are caught with trawling method performed by small-sized fishing boats where each fishing trip is only less than 36 hours! (In most other regions, fishing trips are performed by bigger boats and can take up to 2 weeks.) This gives us a shorter sea-to-shore time and hence, fresher quality! It is highly versatile and can be fried, steamed or served in hot pot. 笨珍野生的红脚大虾有别于来自其他海域的红脚大虾,它的口味更加清甜。味道尝起来很新鲜,富有弹性,Q弹有嚼劲,广受大众喜爱。这些红脚大虾采用小型渔船以拖网的方式捕获,出海用时不到 36 小时!(多数大型渔船则可用时长达 2 星期)这提供了我们绝大的优势,更短的捕鱼时间带给我们鲜度更高的海鲜。红脚大虾适合各种烹饪方式:煎炸、清蒸和搭配火锅。

Chinese Name(s): 红脚大虾 / 明虾

Local Name(s): Udang Besar / 'Ang Ka'

Origin: Pontian 笨珍

Type: Wild Caught (Trawling) 野生(拖网)

Flavour: Medium 中等

Texture: Firm 结实

Cooking Method: Steam / Stir Fry / Hot Pot 蒸 / 炒 / 火锅

Weight Loss after cleaning: -

—————————————————————————————————————
Types of Wild King Prawns
Pink in colour, bouncy in texture, umami in taste. Only the freshest, wildest king prawns got picked by our fisherman, and delivered straight to your doorsteps.
Shells 'glued' to the meat? Hard to peel? That's just the natural prawns' moulting cycle (regrow/renew of shell), a common myth of bad prawns. King prawns typically undergo tens of times throughout their life cycle, and every moult cycle causes the shell to turn soft for days. If our fisherman happens to catch it during the cycle, then you will have softshell prawns. Just like how they harvest softshell crab.
Though, we try our best to handpick out all the softshell one, sometimes these sneaky shrimp still slip through our QC. But rest assure that they are as fresh as thier hard-shell brothers.
It's wild caught, preservative-free, from the mangrove water of Pontian, Johor. Try it yourself and never look at other prawns again.
The top prawn probably swims from Africa to Melacca. Well....actually: (Top down)
1. Giant Tiger Prawns Scientific: Penaeus Monodon Malay: Udang Harimau Hokkien: Hor Heh heh heh
2. King Prawn (yellow leg) Scientific: Penaeus Latisulcatus Malay: Udang kaki merah Hokkien: Tua Heh
3. King Prawn (red leg) Same as 2.
4. Banana prawn Scientific: Panaeus Merguiensis Malay: Udang Puteh Hokkien: Ming Heh heh heh
How To Make: Salt and Pepper Wild King Prawns
Ingredients
2 

pounds 

large wild king prawns, peeled, deveined and butterflied (shell may be left on if desired)

2 

tablespoons 

cornstarch

1 

teaspoon 

ground white pepperCanola oil for deep-frying

1/4

cup 

minced green onions

2 

tablespoons 

minced ginger

3 

cloves 

garlic, minced

1

 

red Fresno chili, seeded and minced

1 

teaspoon 

five spice powder

1 

teaspoon 

salt

1/4 

teaspoon 

sugar

1/4 

teaspoon 

freshly ground black pepper
Steps
In a small bowl, whisk together the cornstarch, 1/2 teaspoon salt and white pepper and set aside. In another small bowl, combine the green onion, ginger, garlic, chili, and five spice powder. In a third small bowl, combine the remaining salt, sugar, and black pepper and set all aside.
Right before serving, fill a wok or deep pan with 3 inches of canola oil. Heat the oil over medium high heat to 375F on a deep-fry thermometer. Once the oil is ready, working in 2 batches, toss the prawns in the cornstarch mixture, shake off the excess and slide the prawns into the oil. Fry until light golden brown and until the shrimp just turns orange, 15 to 20 seconds. Use a wire skimmer to transfer the shrimp to a baking sheet double lined with paper towels. Allow the oil to reheat and fry the second batch.
Heat a separate wok or a large sauté pan over high heat. When the pan is hot, add 2 tablespoons of oil to the pan and stir-fry the green onion and chili mixture until fragrant, several seconds. While continuously stirring, add the salt, sugar and black pepper mixture. Return the flash-fried shrimp to the pan stir-fry until the shrimp are well-coated with the spice seasoning  and heated through. Transfer the shrimp to a warmed serving platter and serve immediately.
Also Try: Creamy Butter Prawms
Additional Information:

Caution: Customized cutting is NOT available.


注意:

恕不接受客制化切割





Storage:

Keep frozen at -18°C. For best quality, consume within 3 months.


储存方式:

冷冻雪藏

-18°C

。购买后

3

个月内食用,品质最佳。





✅

100% Preservative Free

绝无防腐




✅

Cleaned & Gutted

去鳞清内脏




✅

Vacuum Packed

真空包装




✅

Flash Frozen

急速冷冻



How we package your order?

The vacuum sealed seafood products and frozen chill packs, which contain non-toxic gel are packed in a polystyrene box, so the chill packs distribute the cold evenly throughout your fish and seafood, ensuring maximum freshness.

We seal the polystyrene box with packing tape and hand it to our cold chain logistic to deliver to you.
What should I do when my order arrives? 

Remove your seafood products as soon as possible from the box, refrigerate all fresh items and freeze all frozen goods until you are ready to prepare them for consumption.
How is your frozen seafood handled? What is your freezing process?

Our fish and shellfish are processed and immediately frozen in our -45°c blast freezer. No chemicals or preservatives are added during the freezing or production process on any of our seafood items.

What is a -45 Degree Freezer and how does it affect the seafood when defrosted?

Blast freezing seafood products at a lower temperature keeps the wall of the cell intact, ensuring that water from the inside does not exit. When defrosted, the quality, texture, and appearance will remain completely intact just as if it were a fresh product.  
What is the proper way to defrost frozen seafood products? 

If you have received frozen seafood and placed it in the freezer, remove these items from the freezer and store them in the refrigerator for at least one day before you plan to serve it. Allow 12 to 24 hours for the product to properly defrost. Do not rush the defrosting process as it can affect the flavor and texture of your seafood.  
Why are some seafood products unavailable from time-to-time?

The availability of seafood products depends upon the season, weather, and other conditions that can affect a catch or harvest. Additionally, the harvesting of many seafood products is regulated in order to maintain a sustainable supply.
Share
View full details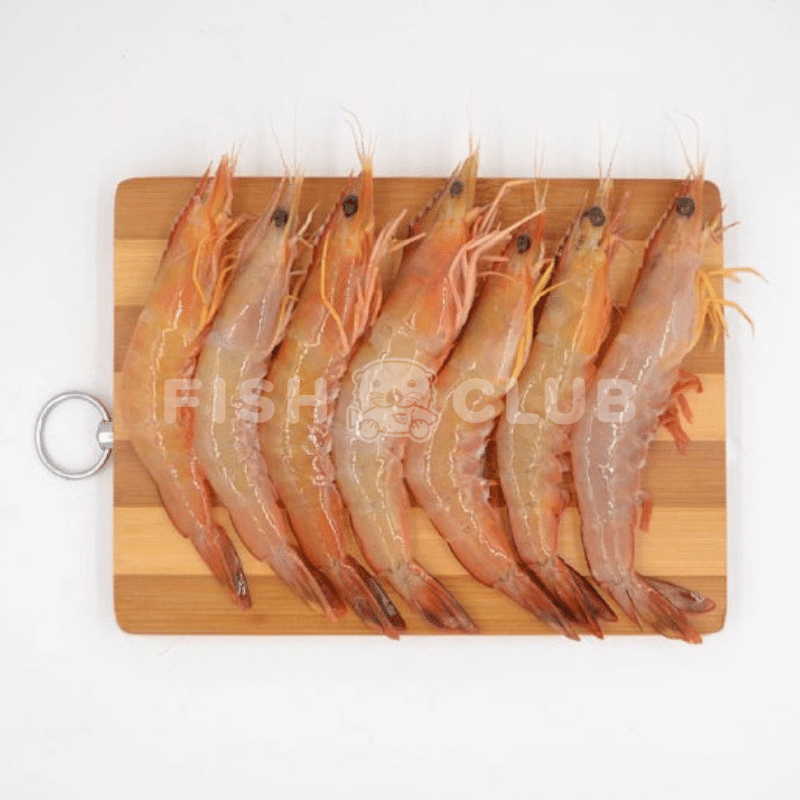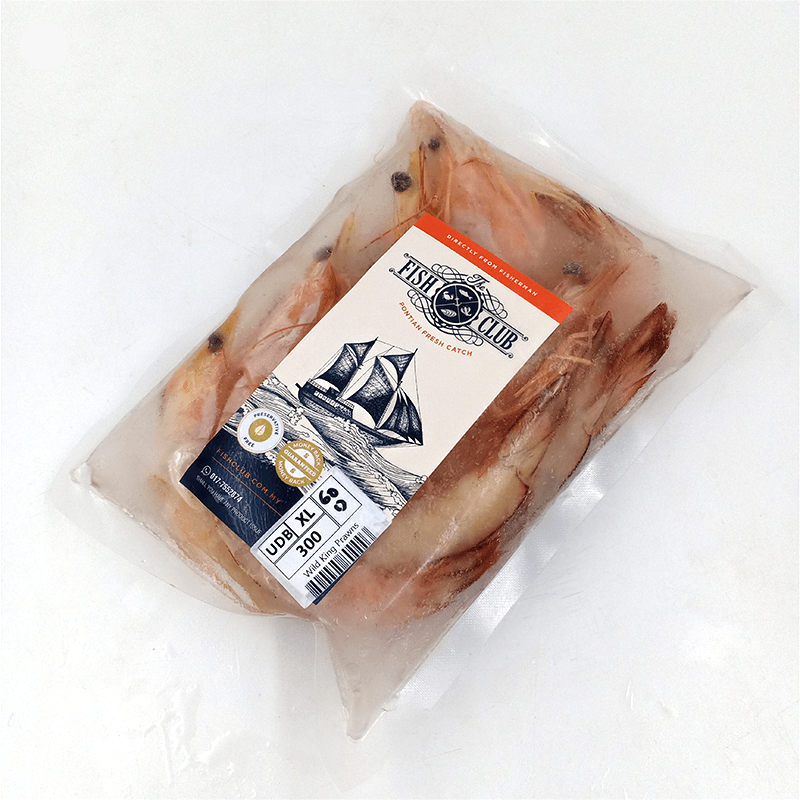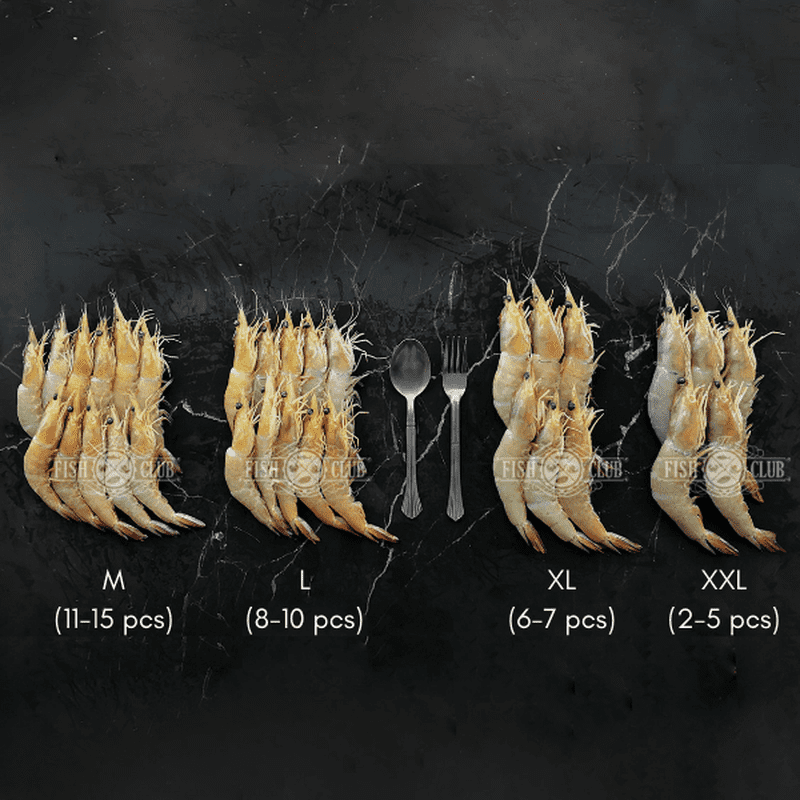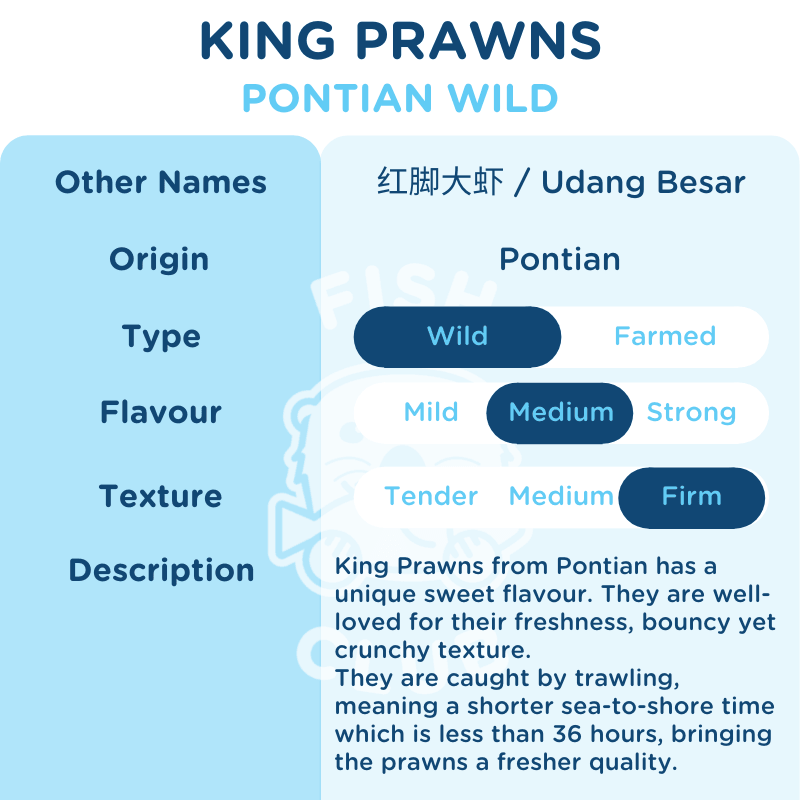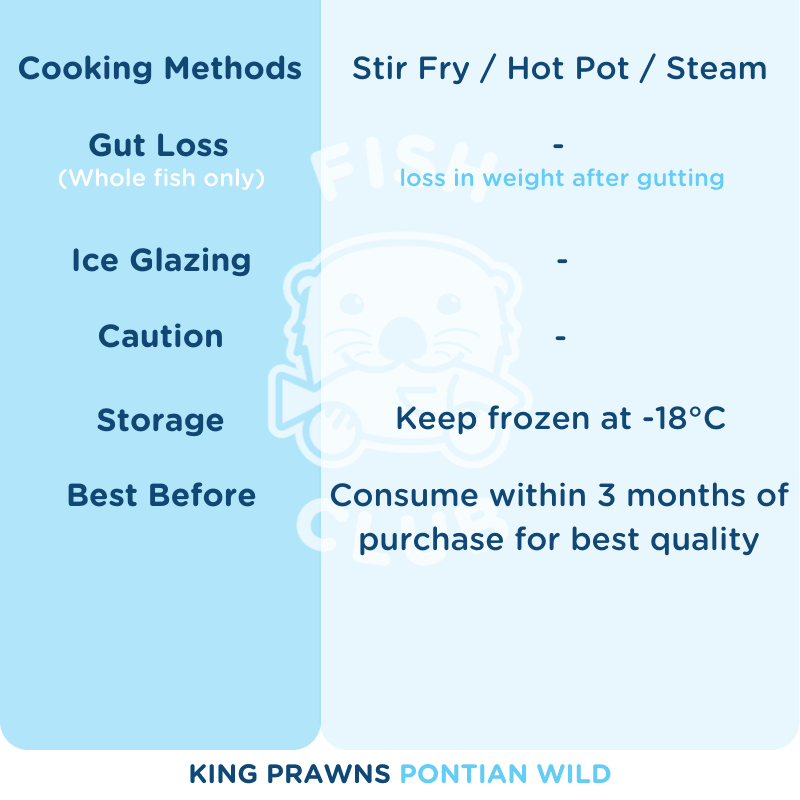 My parents' favourite prawns! Save them the trip to Pontian as this can be delivered straight to home, very well packed.