Origin: Pontian
Regular price
RM36.90
Sale price
RM30.90
Unit price
per
Sale
Sold out
Low stock: 6 left
KOREAN SEERFISH 大板鲛鱼
Korean Seerfish (Tat Pan) from Pontian has a hint of sweet taste in its savoury flavour that is unique and cannot be found elsewhere. Korean Seerfish is often associated and confused with Spanish Mackerel (Batang) and Spotted Spanish Mackerel (Tenggiri). Despite similar appearances, their taste and flavours can be differentiated. Among the three, Korean Seerfish is the priciest yet most popular option because of its rarity and culinary versatility. The flavour itself is quite strong and is known to be the sweetest tasting among the three mackerels. The fish can be enjoyed in many ways such as pan-fried, steamed or sliced to cook in soup.
笨珍野生的大板鲛鱼有别于来自其他海域的大板鲛鱼,它的口味更加清甜。许多人常把大板鲛鱼,巴当鲛鱼和斑点马鲛混淆。其实,大板鲛鱼是这三种鱼之中要价最高,却也是最受欢迎的,因为它较为稀有,而且适用于各种烹饪手法。大板鲛鱼味道浓郁,更是比巴当鲛鱼和斑点马鲛更加香甜。可以用于煎炸,清蒸或切片熬汤。
Chinese Name(s): 大板鲛鱼
Local Name(s): Tenggiri Tat Pan
Origin: Pontian 笨珍
Type: Wild Caught 野生
Flavour: Strong 浓郁
Texture: Tender 柔软
Cooking Method: Steam / Soup 蒸 / 汤
Weight Loss after cleaning (whole fish): 15-20% ————————————————————————————————————
Having the strongest flavour among its cousins in the mackerel family, Korean Mackerel (Tat Pan) has become all Pontian folks' favourite!
马鲛类当中,口味最浓厚的大板,成了一代代笨珍人的最爱,也是鱼粥最佳的首选鱼肉。
Korean Mackerel has a high fat content and when it's raw, it's firm and brown; once it's cooked, it becomes creamy and white.
大板含有较高的鱼油含量,大板生鱼片是褐色且扎实的;一旦煮熟,就变成顺滑的白鱼肉。
How To Make: Indonesian Style Assam Tenggiri
Ingredients
6 Spanish mackerel steak, 1/2 inch thick each, total weight 600-700 gram.
juice of 1 lime
1 teaspoon salt
2 tablespoon oil
2 bay leaves
3 tomatillos
750 ml coconut milk
1 tablespoon salt
1/2 tablespoon sugar
tamarind solution
4 red Thai chilies
4 red anaheim chilies
8 shallots
3 cloves garlic
1 inch kaempferia galangal
1 inch turmeric
1/2 inch ginger
1/2 inch galangal
Steps
Marinate fish with lime juice and salt, set aside for 15 minutes.
Heat oil in a pot and sauté spice paste, bay leaves, and tomatillos until fragrant, about 3 minutes.
Add coconut milk, mix well, and bring to a boil.
Add the fish, salt, sugar, and tamarind solution. Cook uncover, until the fish is cooked and the sauce is slightly thickened and reduced, about 15 minutes.
Additional Information:

Caution: Customized cutting is NOT available.


注意:

恕不接受客制化切割





Storage:

Keep frozen at -18°C. For best quality, consume within 3 months.


储存方式:

冷冻雪藏

-18°C

。购买后

3

个月内食用,品质最佳。





✅

100% Preservative Free

绝无防腐




✅

Cleaned & Gutted

去鳞清内脏




✅

Vacuum Packed

真空包装




✅

Flash Frozen

急速冷冻



How we package your order?

The vacuum sealed seafood products and frozen chill packs, which contain non-toxic gel are packed in a polystyrene box, so the chill packs distribute the cold evenly throughout your fish and seafood, ensuring maximum freshness.

We seal the polystyrene box with packing tape and hand it to our cold chain logistic to deliver to you.
What should I do when my order arrives? 

Remove your seafood products as soon as possible from the box, refrigerate all fresh items and freeze all frozen goods until you are ready to prepare them for consumption.
How is your frozen seafood handled? What is your freezing process?

Our fish and shellfish are processed and immediately frozen in our -45°c blast freezer. No chemicals or preservatives are added during the freezing or production process on any of our seafood items.

What is a -45 Degree Freezer and how does it affect the seafood when defrosted?

Blast freezing seafood products at a lower temperature keeps the wall of the cell intact, ensuring that water from the inside does not exit. When defrosted, the quality, texture, and appearance will remain completely intact just as if it were a fresh product.  
What is the proper way to defrost frozen seafood products? 

If you have received frozen seafood and placed it in the freezer, remove these items from the freezer and store them in the refrigerator for at least one day before you plan to serve it. Allow 12 to 24 hours for the product to properly defrost. Do not rush the defrosting process as it can affect the flavor and texture of your seafood.  
Why are some seafood products unavailable from time-to-time?

The availability of seafood products depends upon the season, weather, and other conditions that can affect a catch or harvest. Additionally, the harvesting of many seafood products is regulated in order to maintain a sustainable supply.
Share
View full details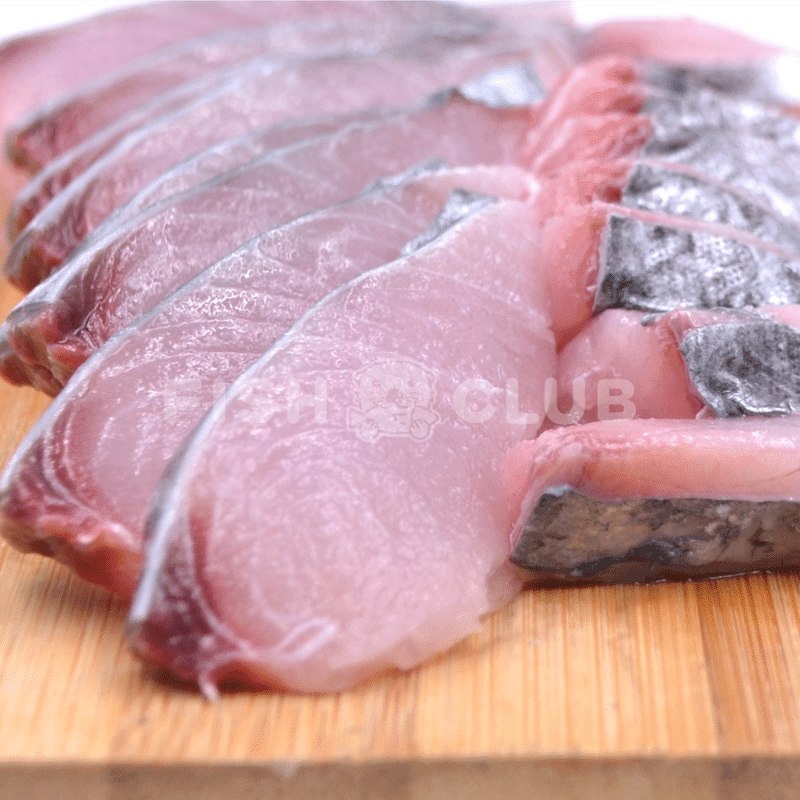 Wonderful
The fish is fresh and taste really good! Highly recommended.