Origin: Norwegian
Regular price
RM165.00
Sale price
RM142.50
Unit price
per
Sale
Sold out
Out of stock
Rainbow Trout, commonly known as 'Salmon' in Malaysia.
峡湾虹鳟,本地普遍称为"三文鱼"。
NORWEGIAN RAINBOW TROUT 挪威三文鱼
Fish Club only selects quality Sashimi-Grade Norwegian Rainbow Trout processed by professional facility where the workspace temperature is controlled at 14°C and all tools are sanitised with food grade disinfectant. Within the shortest time possible, the Rainbow Trout is cleaned → deboned → filleted → vacuum packed → flash frozen (-40°) to lock in maximum freshness with absolutely NO preservatives.

Our Rainbow Trout is freshly air-flown imported from Norway every week. With high turnover rate, we make sure you always get the freshest batch of Rainbow Trout.

It's rich in protein and omega-3 (DHA+EPA) which are good for brain development and promote good health for eyes and bones. The fillets are 99.9% deboned, making it super convenient to prepare for your family.

Fish Club 只选用经过专业加工厂处理的优质刺身等级挪威三文鱼,不仅确保厂内温度保持低温 14°C,所有用具都经过 Food Grade 消毒杀菌,在最短时间内完成清理 → 挑骨 → 切割 → 真空包装 → 急速冷冻(-40°C),不添加任何防腐,锁住最高新鲜度。

每周从挪威新鲜空运进口,进货快出货快,绝不吨货!确保你买到的都是最新鲜一批的挪威三文鱼。

含有丰富蛋白质和 Omega-3 (DHA + EPA),有益于脑部发育,保持眼睛和骨骼健康哦。鱼肉基本上已经挑除 99.9% 的鱼骨,处理起来非常方便。

Chinese Name(s): 峡湾虹鳟(三文鱼)

Origin: Norway 挪威

Type: Farmed 养殖

Flavour: Strong 浓郁

Texture: Medium 适中

Cooking Method: Pan Fry / Bake / Porridge 煎煮 / 烤 / 粥

Weight Loss after cleaning (whole fish): about 10% ——————————————————————————————————



| | |
| --- | --- |
| Nutrition value per 100 g | Energy: 693 kJ (166kcal) Fat: 10 g - Saturated fatty acids: 2 g - Monounsaturated fatty acids: 3 g - Polyunsaturated fatty acids: 3 g - Omega-3: 2.2g Carbohydrates: 0 g - Sugars: 0g Protein: 19g Salt: 0.12 g Vitamin D: 6.9 µg |
Fjord Salmon trout is an exclusive fish and the name for fresh farm raised trout from Norway.  Fjord trout is genetically a smaller fish than salmon and has shorter fibers in the meat compared to salmon. This means that the Fjord trout meat becomes a little tenderer, and more velvety. Fjord trout also has leaner meat than salmon and a strong red color. Salmon Trouts are raised in cold, clear fjords in western Norway, and one of the hatcheries is located by Folgefonna glacier which is around 10 000 year old. For one year the fish swims around in crystal clear water from the glacier before it is transferred to nearby fjords where it enjoys a combination of salty water from the sea and fresh water from the glacier. Thus, it has earned its name; Fjord Trout – Kissed by a Glacier.
Norway's Industry-Leading Aquaculture
Norwegian Fjord Trout is ocean
-
farmed in Norway's natural fjords—where rivers formed by water from glaciers and melted snow filter into the sea creating a less-salty basin. This provides Norwegian Fjord Trout with a unique, clean taste.
Certified Norwegian Fjord Trout Must
:
Be raised in the cold, clear waters of Norway
Weigh over 4.4 pounds
Have marbled, deep red flesh
Be packed as soon as slaughtered
Be stored and transported with an unbroken cold chain (at 32°F–39.2°F) until delivery
Norwegian Fjord Trout Is Safe to Consume Raw
Norwegian Fjord Trout is exempt from the freezing requirement for fish (US Food Code section 3-402.11) because it is an aquacultured fish, raised in net-pens in open water and fed formulated feed. Lerøy Fjord Trout complies with the highest Quality Standard for Norwegian Fjord Trout (NS-9412-2010). Global G.A.P IFA Aquaculture certification is available. Season: Lerøy Fjord Trout is available all year round.
Source
Salmon is nutritionally an excellent product. Salmon have a natural high content of protein and contains a lot of the healthy polyunsaturated fatty acids. Therefore also high in Omega-3 fatty acids (EPA and DHA) and rich in the fat soluble Vitamin D. Salmon is also a good source of the minerals iodine and selenium.
Protein, contributes to the growth and maintanence in muscle mass
Marine Omega 3-fatty acids, EPA and DHA contribute to the normal function of the heart
Vitamin D, contributes to the maintanence of normal bones, and teeth. Contributes to the normal function of the immune system.
Iodine which contributes to the normal functions of the nervous system and the maintancence of normal skin.
Selenium contributes to the normal thyroid function, maintanence of normal hair and nails, and contrubutes to the protection of cells from oxidative stress.
Norwegian Salmon Trout is a very useful raw material and the possibilities is unlimited and only almost limitid by your imagination and creativity in the kitchen. Salmon is sold fresh or frozen, in portion, fillets or as a whole gutted salmon. Salmon fillet can be marinated, smoked or hot-smoked. Fresh salmon can be used raw for sashimi, sushi, pokè or ceviché. Farmed norwegian salmon is excepted the demand of freezing before raw consumption as the farmed salmon have only had formulated feed in its diet. Therefore no risk of anisakis. Salmon can be simmered, roasted, grilled, baked, seasoned and is suitable in soups and caserolles. Smoked salmon can be used on a sandwich, in salads and omelettes, with pasta or in a wrap. Have you tried salmon in a fish taco? Norway have been a pioneer in farming of salmon, and have since the break through of farming in sea pens in the 1970's kepts its position as the worlds leading farmers of Atlantic salom, where Lerøy Seafood Group is the second largest company of farmed salmon in the world! The production and farming of salmon is a resource efficient and climate-freindly form of food production. Lerøy have locations all over the coast of Norway ranging from the county Rogaland in the south all the way up to Finmark in the north.  It takes approximately 2-3 years from a salmon roe hatch until a finisihed grown and harvest ready salmon. Through these years the salmon goes through different life stages. Broodstock salmon is the ancestors to the Lerøy salmon and originates from norwegian rivers where traits from the wild salmon was selcted and bred.Extensive breeding have improved characteristics as growth, color and quality of finished products. The productions of salmon starts in rearing tanks on a land based fresh water farm. Just as for wild salmon in rivers, the fertilization of the roe is done in fresh water. The roe is ready to hatch after approximately 60 days at maximum 8°C before it hatch (or approx. 500 daydegrees). When the roe hatch into alevins which have yolk sacs which they use for food the first period of their life span. After 4-6 weeks when the yolk sacs have been used up the alevins have to start to feed. At this point they are known as fry and have been weaned over to formulated feed known as pellets. Then the juveniles are moved over from the hatching tank to a larger rearing tank. The juveniles known as parr for 1,5 months (480 daydegrees at maximum 12 °C). After 8-15 month in freshwater the salmon is ready for transport to the sea.  It ways now approximately 60-200 g. Since the hatch the juvenile salmon have gone through a transformation from parr to smolt in a process called smoltificatio, where the salmon are getting ready to adapt to the life in sea water. Before the transfer into sea the smolt is vaccinated to be ready to life a robust life in sea. In the future Lerøy may also wait to tranfer smolt to sea until it have reached 500 g so thet the life span in sea water is shortened and may also be a solution to reduce the problem with sealice. The smolts are transferred to the sea farms with wellboats and put in sea cages. These sites are called production farms and extensive farming at sea. The salmon is grown at the farm for 14-22 months until fulle grown. Optimum sea currents, cold water and oxygen rich fjords is a blessing for the production of atlantic salmon. The cages contains 97,5 % water and maximum 2,5 % salmon. This is the maximum allowed density, but the normal density ranges below the maximum allowed density. When the salmoon have reached 4-6 kilos, it is ready to be transported from the farm to the harvest plant. The transportation is with well boat. The well boats have big tanks (wells) with sea water, and the salmon is transported alive to the waiting cages at the harvest plant under strict survaillance of oxygen and other parameters.  The transportation takes from  3-20 hours. The salmon is placed in waiting cages outside the harvest plant. The purpose is to realse the well boats transport capacity, calm down the salmon and provide the harvest plant with contiounious supply of salmon. The salmon waits in the cages from 24 hours to maximum 6 days before it is gently pumped in to the factory. The salmon is gently pumped and swim up current in to the stunner. The salmon is in regards of the fish welfare properly stunned before it is bled. This is also to maintain the quality of the salmon and also if the salmon is not stressed we get a better product. Salmon is chilled and packed with ice to remain the good quality. The correct packaging also contributes to remain the shelf life, freshness and quality of the salmon. For frozen products quick freezing is key to preserve quality.
How To Make: Honey Garlic Salmon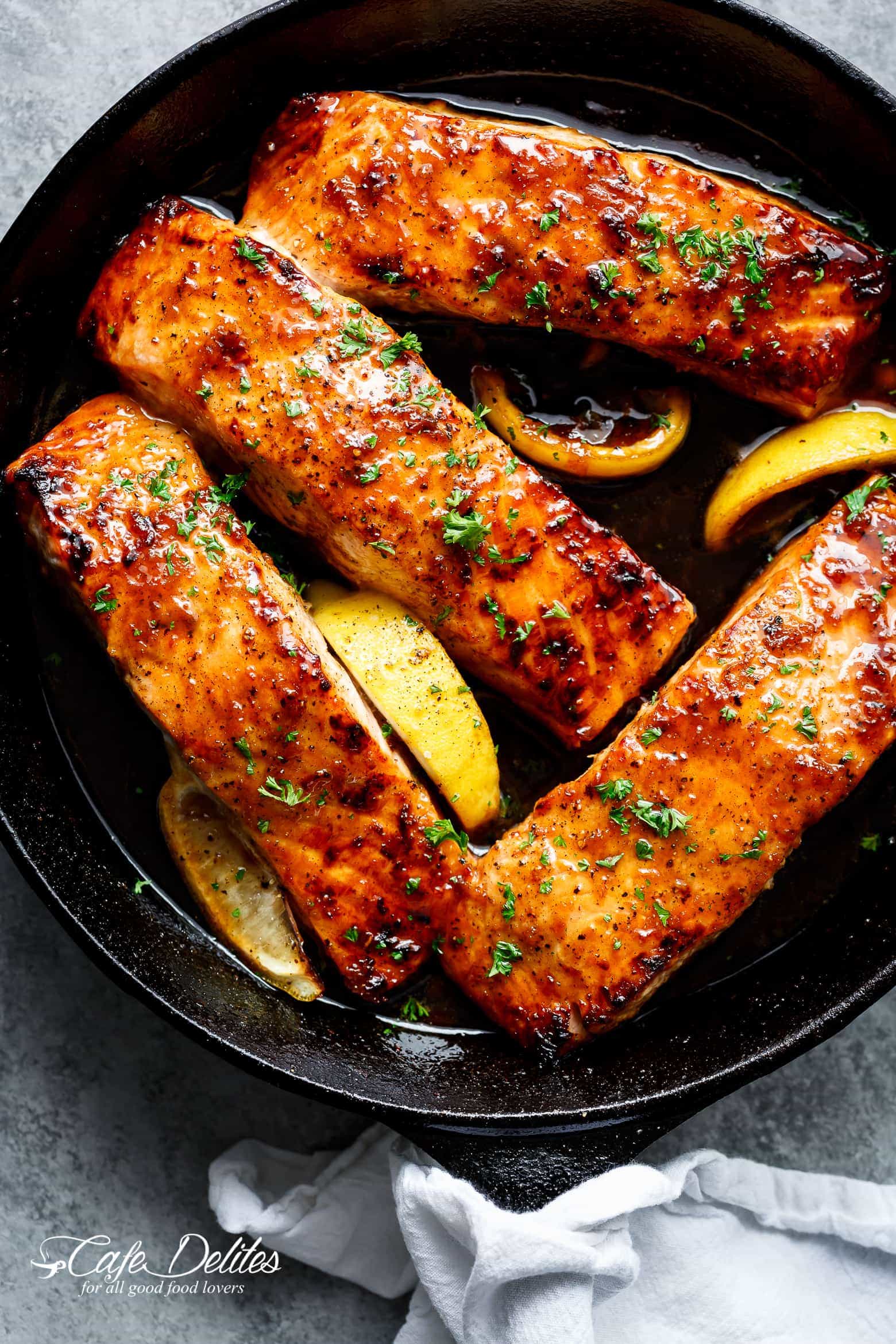 Ingredients
4

 

wild caught salmon fillets

 

about 1/2 pound or 250 grams each, skin off or on

Salt and pepper,

 

to season

1/2

 

teaspoon

 

paprika

 

(mild, sweet or smokey)

2

 

tablespoons

 

butter

4

 

cloves

 

garlic,

 

finely chopped or minced

4

 

tablespoons

 

honey

1

 

tablespoon

 

water

2

 

teaspoons

 

soy sauce

1

 

tablespoon

 

fresh squeezed lemon juice,

 

(plus extra to serve)

Lemon wedges

 

to serve
Steps
Arrange oven shelf to the middle of your oven. Preheat oven to broil/grill settings on medium heat.

Season salmon with salt, pepper and paprika. Set aside.

Heat the butter in a skillet or pan over medium-high heat until melted. Add the garlic and sauté for about a minute, until fragrant. Pour in the honey, water and soy sauce; allow the flavours to heat through and combine. Add in the lemon juice; stir well to combine all of the flavours together.

Add the salmon steaks to the sauce in the pan; cook each fillet (skin-side down if there's any skin) for 3-4 minutes or until golden, while basting the tops with the pan juices. Season with salt and pepper, to taste (if desired).

Optional -- Add the lemon wedges around the salmon (adds a stronger lemon taste). Baste salmon one more time then transfer the pan to your oven to broil / grill for a further 5-6 minutes, or until the tops of the salmon are nicely charred, and the salmon is cooked to your liking.

To serve, drizzle with the sauce and a squeeze of lemon juice. Serve with steamed vegetables; over rice or with a salad.
Additional Information:

Caution: Customized cutting is NOT available.


注意:

恕不接受客制化切割





Storage:

Keep frozen at -18°C. For best quality, consume within 3 months.


储存方式:

冷冻雪藏

-18°C

。购买后

3

个月内食用,品质最佳。





✅

100% Preservative Free

绝无防腐




✅

Cleaned & Gutted

去鳞清内脏




✅

Vacuum Packed

真空包装




✅

Flash Frozen

急速冷冻



How we package your order?

The vacuum sealed seafood products and frozen chill packs, which contain non-toxic gel are packed in a polystyrene box, so the chill packs distribute the cold evenly throughout your fish and seafood, ensuring maximum freshness.

We seal the polystyrene box with packing tape and hand it to our cold chain logistic to deliver to you.
What should I do when my order arrives? 

Remove your seafood products as soon as possible from the box, refrigerate all fresh items and freeze all frozen goods until you are ready to prepare them for consumption.
How is your frozen seafood handled? What is your freezing process?

Our fish and shellfish are processed and immediately frozen in our -45°c blast freezer. No chemicals or preservatives are added during the freezing or production process on any of our seafood items.

What is a -45 Degree Freezer and how does it affect the seafood when defrosted?

Blast freezing seafood products at a lower temperature keeps the wall of the cell intact, ensuring that water from the inside does not exit. When defrosted, the quality, texture, and appearance will remain completely intact just as if it were a fresh product.  
What is the proper way to defrost frozen seafood products? 

If you have received frozen seafood and placed it in the freezer, remove these items from the freezer and store them in the refrigerator for at least one day before you plan to serve it. Allow 12 to 24 hours for the product to properly defrost. Do not rush the defrosting process as it can affect the flavor and texture of your seafood.  
Why are some seafood products unavailable from time-to-time?

The availability of seafood products depends upon the season, weather, and other conditions that can affect a catch or harvest. Additionally, the harvesting of many seafood products is regulated in order to maintain a sustainable supply.
Share
View full details