Origin: Norwegian
Regular price
Sale price
RM14.80
Unit price
per
Sale
Sold out
In stock
Norwegian Mackerel Saba 鲭鱼
Chinese Name(s): 鲭鱼
Origin: Norway 挪威
Type: Wild Caught 野生
Flavour: Strong 浓郁
Texture: Firm 结实
Cooking Method: Deep Fry / Pan Fry 油炸 / 煎炸
Weight Loss after cleaning (whole fish): 0%
 —————————————————————————————————————    
Norwegian Mackerel Fillet
Mackerel, commonly known as "Saba Fish" (not to be confused with Sabah / Sarawak state) is a fast-swimming fish. In the summer it appears in large coastal shoals as well as in the Skagerrak, the North Sea and the South Norwegian Sea. For Norwegian mackerel, the premium catch period is September to November when the Mackerel swims from the feeding areas in The Norwegian Sea and back to the spawning areas. This is when the fat content is the highest, making the mackerel especially tasty and packed with healthy EPA, DHA and other omega-3 fatty acids. This explains the international popularity of Norwegian mackerel, which is caught when the fish is of the highest quality. Norway mainly uses purse seine when fishing for mackerel. This distinguishes Norway from other exporters and contributes to the high quality of mackerel from Norway. Trolling line is also used along the coast and pelagic trawl at sea.
Mackerel is especially rich in:
• Protein that builds and maintains every cell in the body
• Omega-3 fatty acids that prevent and reduce the development of cardiovascular diseases, and which are important building blocks in the brain
• Vitamin D, which is necessary to get the right balance of calcium in the body to maintain and strengthen the bones
• Selenium, an important element in an enzyme that fights harmful chemical processes in the body
How To Make: Japanese Style Grilled Mackerel
Ingredients
10

 

oz

 

mackerel (saba)

 

(280 g, 2 fillets)

2

 

Tbsp

 sake

½

 

tsp

 

salt (kosher or sea salt; use half if using table salt)

1

 

inch

 daikon radish 

(grated, to serve)

1

 

tsp

 soy sauce 

(to serve)

1

 

wedge

 

lemon
Steps
Gather all the ingredients.
Coat the fish with 2 Tbsp sake.
Pat dry with paper towel (and discard the sake) and transfer the fish to a baking sheet lined with parchment paper.
Sprinkle ½ tsp salt on both sides of the fish.
Let it sit at room temperature for 20 minutes. Preheat the oven to 400 ºF (200 ºC).
After 20 minutes, pat dry the excess moisture came out from the fish.
Place the fish skin side down and bake for 20 minutes, or until the flesh is golden brown.
Grate daikon radish using (I love this grater).
 Serve the grilled mackerel with grated daikon and a lemon wedge on the side. Pour a few drops of soy sauce on grated daikon and eat the fish with grated daikon. Enjoy!
Tips:
Mackerel requires very little seasoning. Simply rub some salt on the fillet then pan fry or grill it. Serve with a wedge of lime or yuzu wasabi for a touch of acidity. Avoid heavy, cream-based sauces – the richness of mackerel is enough of a stomach filler as it is.
Additional Information:

Caution: Customized cutting is NOT available.


注意:

恕不接受客制化切割





Storage:

Keep frozen at -18°C. For best quality, consume within 3 months.


储存方式:

冷冻雪藏

-18°C

。购买后

3

个月内食用,品质最佳。





✅

100% Preservative Free

绝无防腐




✅

Cleaned & Gutted

去鳞清内脏




✅

Vacuum Packed

真空包装




✅

Flash Frozen

急速冷冻



How we package your order?

The vacuum sealed seafood products and frozen chill packs, which contain non-toxic gel are packed in a polystyrene box, so the chill packs distribute the cold evenly throughout your fish and seafood, ensuring maximum freshness.

We seal the polystyrene box with packing tape and hand it to our cold chain logistic to deliver to you.
What should I do when my order arrives? 

Remove your seafood products as soon as possible from the box, refrigerate all fresh items and freeze all frozen goods until you are ready to prepare them for consumption.
How is your frozen seafood handled? What is your freezing process?

Our fish and shellfish are processed and immediately frozen in our -45°c blast freezer. No chemicals or preservatives are added during the freezing or production process on any of our seafood items.

What is a -45 Degree Freezer and how does it affect the seafood when defrosted?

Blast freezing seafood products at a lower temperature keeps the wall of the cell intact, ensuring that water from the inside does not exit. When defrosted, the quality, texture, and appearance will remain completely intact just as if it were a fresh product.  
What is the proper way to defrost frozen seafood products? 

If you have received frozen seafood and placed it in the freezer, remove these items from the freezer and store them in the refrigerator for at least one day before you plan to serve it. Allow 12 to 24 hours for the product to properly defrost. Do not rush the defrosting process as it can affect the flavor and texture of your seafood.  
Why are some seafood products unavailable from time-to-time?

The availability of seafood products depends upon the season, weather, and other conditions that can affect a catch or harvest. Additionally, the harvesting of many seafood products is regulated in order to maintain a sustainable supply.
Share
View full details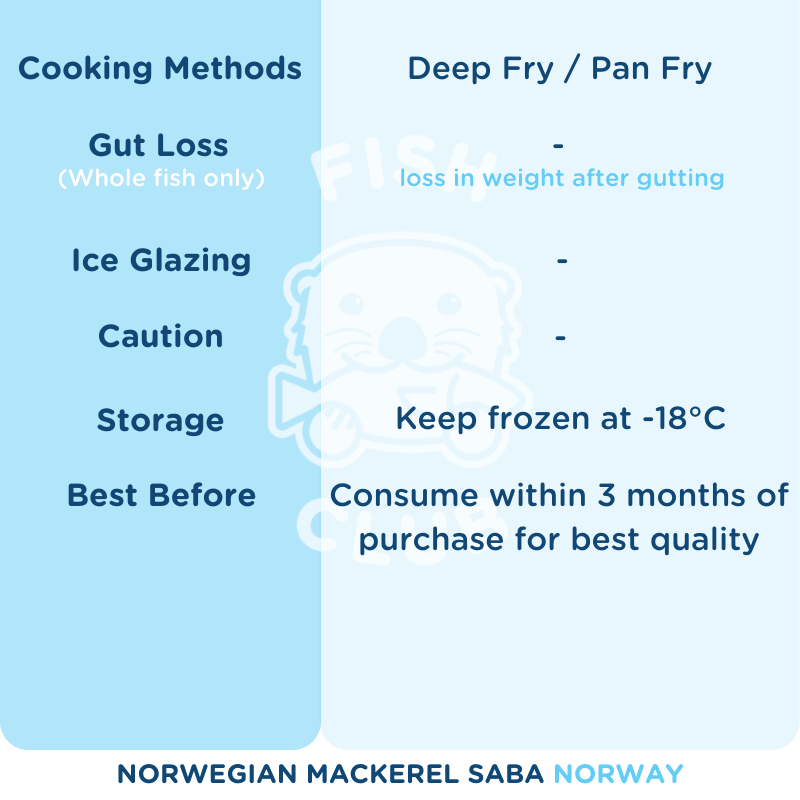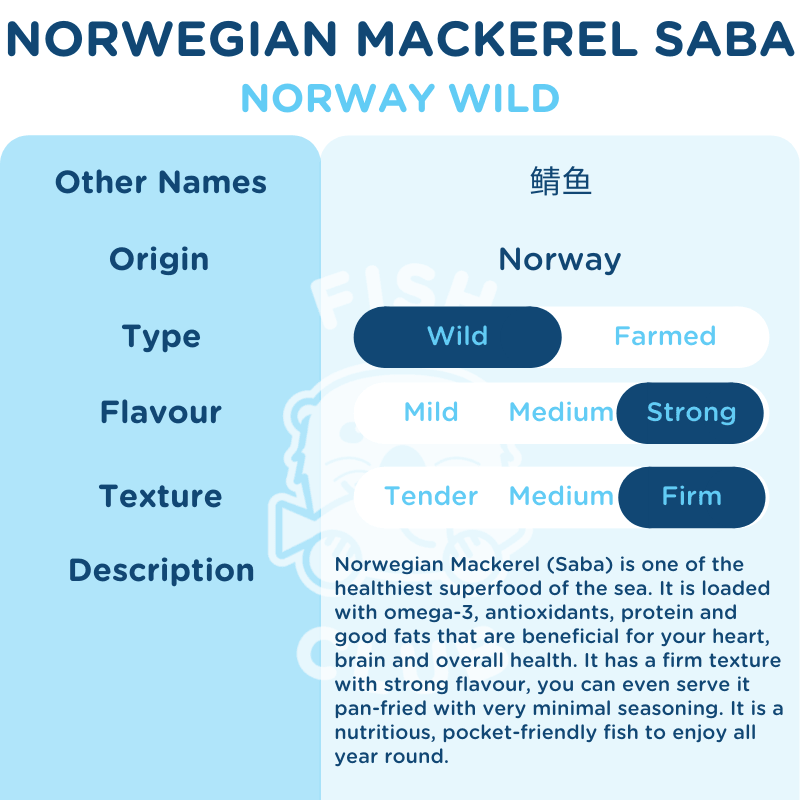 Norwegian Mackerel Saba
The vacuum packed flash frozen fillets were properly cleaned and gutted. Love to marinate the fillets with spices especially turmeric before air frying them...delicious and healthy.